WHAT IS WEB MARKETING TOOL?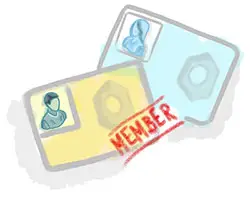 Subscription Based Online Marketing Tools
Our flagship product is membership to the online marketing tools that you can use for your website. We have tools to allow you to create a new website, to enhance your existing website, to market your website, to manage your contacts and your employees, basically anything. Your subscription with Web Marketing Tool also gives you access to over 1000 ready-to-go templates so you can be up and running today.
A Software Development Company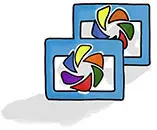 At the foundation Web Marketing Tool is a software development company that specializes in membership software. We have been developing the tools that we provide for over 6 years. Our founder is a master developer that has over 20 years of development experience. Most of our resources are used in development and our strongest asset is the wide range of tools and software we've created. We also sell stand alone systems that we install on your domain and can be completely customized.
A Network of Service Providers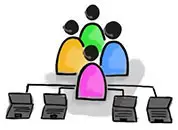 We contract with service providers all over the world to ensure that we have a providers for every skill and budget. We monitor providers by taking screen shots every few minutes of their computer and also comparing them to other providers doing similar tasks. We provide our workers with training and moral support. Unlike a freelancing site where you post a project and workers bid on it, instead we match providers to speed up the process and also to ensure that the best provider is selected for your project.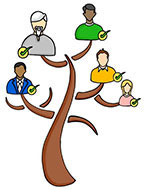 A Community of Educators
Beyond just having training resources, lessons and quizzes Web Marketing Tool fosters a community of educators who work together pushing each other towards excellence. With the attitude that every person has something to teach and something learn we are a true community where sharing knowledge and ideas is a way of life. Our founder has travelled the globe to work one-on-one with many of the service providers in order to nurture skills and develop long lasting relationships.
3 REASONS TO CHOOSE WEB MARKETING TOOL

1

WE INVEST IN
OURSELVES
---
Web Marketing Tool invests heavily into training employees and contractors. We invest into translating our software into new languages. We invest into research and focus groups to make sure our software is easy to use yet powerful. We invest into creating our own templates so that you have a large selection of templates to choose. We invest because Web Marketing Tool is here to stay.

2

WE LISTEN TO
OUR CLIENTS
---
One of the main things that has driven us to succeed is that we listen to our clients. Most of our tools are requests from our clients. Our senior developers often work side-by-side with our sales team to better understand the needs of the clients they work with. We understand that what makes us strong is our ability to provide our clients with what they need and we take every suggestion seriously.

3

WE REINVENT
THE WHEEL
---
Web Marketing Tool is dedicated to reinventing the wheel and to finding ways to improve things that already exist. Web Marketing Tool rarely uses 3rd party code and prefers to build everything themselves from scratch. By doing everything from scratch they are able to customize things easier and also better understand how things work. A question the founder likes to ask new workers is "If I were to open a book store I would need a large field with many acres. Why would I need this large field?". The answer is "To plant the trees that I will make the books out of". It is with this attitude that Web Marketing Tool approaches development and it is this attitude that has grown Web Marketing Tool into a company with highly qualified workers that can accomplish anything.
LEARN ABOUT WEB MARKETING TOOL
Web Marketing Tool co is a corporation that was founded in Louisville, Kentucky USA in May 2011. Before that it started out in 2007 as a sole proprietorship operated under the name Lead Capture Page System. From the very beginning the focus has been on listening to the wants, needs and wishes of the customers. Web Marketing Tool specializes in membership sites and development projects but offers a wide array of website related products and services. Web Marketing Tool's goal is to continue to meet and exceed the expectations of their customers' by carefully identifying the current and future needs of their clients.
Lead Capture Page System
Lead Capture Page System
first started doing capture pages in 2007 and then in 2008 developed and started selling replication lead capture systems. Hundreds of capture page systems have been setup, as well as managed. Over a thousand of capture pages have been customized and designed. Thousands of capture pages have been installed. Over a million users have become members of a website using the
Lead Capture Page System
software.
NOTE: These figures are from 2007-2013. In September 2013 Web Marketing Tool sold the Lead Capture Page System brand and is no longer affiliated with it.
About The Founder
The founder of Web Marketing Tool co is Chris Brevig. Chris is a hard working individual that is dedicated to learning new things and training others in what he has learned. He is a perfectionist that is never satisfied with something and always looks for ways to improve.
Giving Back
Web Marketing Tool gives back to the community by giving to local charities and sponsoring local people and events.
Some things they have either sponsored or donated money to include:



Tye Goodwin Productions

Tye Goodwin Productions does gospel plays in Louisville, Cincinnati and other cities in the area. Web Marketing Tool for 2 years has been a diamond level corporate sponsor for these events.

Dirt Bowl Basketball League

The Dirt Bowl is an annual 6 week long basketball tournament in Louisville Kentucky. For the past 3 years Web Marketing Tool has sponsored a team in the tournament including paying for team fees and also equipment and jerseys for the team.

Muhammad Ali Center

For the past 2 years Web Marketing Tool has supported the Muhammad Ali center through annual membership.

Sheltowee Trace Association

The Sheltowee Trace Association is an organization that supports and maintains the Sheltowee Trace trail in Kentucky, a 310 mile trail. For the past 2 years Web Marketing Tool has supported the Sheltowee Trace Association through corporate membership.

Tupac Shakur Foundation

Web Marketing Tool has purchased several bricks ($100/ea) for the peace gardens at the Tupac Shakur Foundation to help support the foundation.

3rd World Assistance

Web Marketing Tool has paid numerous doctor bills for villagers in need, including covering the full cost of an emergency C-Section operation, Tuberculosis testing for villagers, emergency surgery for a child that cracked his head on a rock falling out of a tree, and many, many other small and mid-sized medical expenses and emergencies. Web Marketing Tool frequently buys 50kg bags of rice and baskets of fish to give to local villagers. Web Marketing Tool is constantly giving out loans to villagers to help with things like house repairs or tuition expenses and most of the time writes off the loans as bad debt.

Full College Tuition

Web Marketing Tool has been paying the full tuition for 2 college students in the Philippines, Christina Abragana and Virginio Adriatico. Virginio is in his first year studying maritime and Christina is in her third studying IT.





Web Marketing Tool typically averages under $200k a year in revenue but tries to use it's money wisely to give back to others and invest in it's own future. When you purchase products or services from Web Marketing Tool you can know that you are supporting a company that is dedicated to the improvement of humanity, the preservation of this world, and in it's own longevity.






4

MORE REASONS TO CHOOSE WEB MARKETING TOOL

1

A TRUE ONE
STOP SHOP
---
With Web Marketing Tool save time searching for vendors. Save time learning new software. Save time explaining your business to service providers. We are the general contractor that will make sure your website is setup quickly and operates smoothly. We take the worries of your website off your shoulders allowing you to concentrate on what you are good at.

2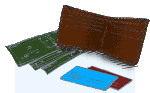 BEST BANG
FOR YOUR BUCK
---
Compare Web Marketing Tool prices to other companies and be amazed. We do not have low prices for one thing and high prices for another. Everything we offer is at the lowest possible price. Our designs are affordable. Our tools are affordable. Our support is affordable. We offer both high end and low end products and can find the perfect match for your budget.

3

FAST SETUP
AND SUPPORT
---
If you purchase a
T


L
BELT
from Web Marketing Tool your account will be instantly setup. If you purchase a
T


L
BOX
we will have it installed within a day, often within an hour. If you purchase a design we will deliver the first draft within 1-2 days. If you have a question we will answer it within a day. If you need custom work we can start today!

4

DEDICATED
TO QUALITY
---
We are dedicated to providing you with the highest quality tools and services. We take pride in looking into the fine details to make sure everything is perfect. There is no project too difficult for our team. From PHP to Linux, from PhotoShop to Google Analytics, our team has a specialist in every field that is amongst the best in their skill.