How do I reset a member's "Failed Logins"?
Added: 07/19/2013 | Updated: 6 Years Ago

Q

uestion

How do I reset a member's "Failed Logins"?
A

nswer
Go to the member list page in the members area - next to the member you want to reset his login you will find "view" - click on view a popup window will show up, you will see in it something called "failed logins" and next to it a link "Reset", click on it , it will reset the failed logins to 0
Related Documents
Still Don't Understand?
Fill out the form below to ask for further clarification about this question:


RELATED QUESTIONS
Q. How do I unlock the admin's account if it was locked from failed login attempts?
A.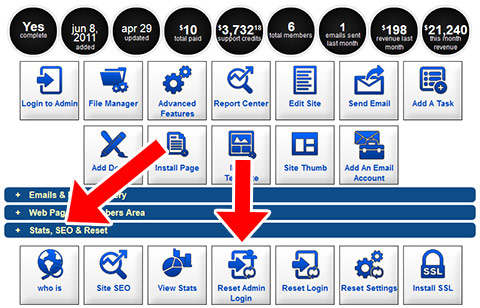 In the
WMT Client Admin
, on the page for your site, under the "
Stats, SEO & Reset
" tab then click "
Reset Admin Login
".
This resets the admin's failed login attempts and does not change the admin password.

---
Q. Is there a way that we can have the first page that people see after they log-in be a different page then the members area home page?
A.
Yes, go to "
Advanced Features
" and click the "Misc" tab
and towards the bottom you will see "Login Redirect URL".
Change this to the url of the page you want a person sent to once they login. Often the easiest approach is to create a resource page with the content you want a person to see when they login, and then set the "Login Redirect URL" to the resource page.

---
Q. Is there a way to tell when Members log into the software? Specifically for someone who says they never got access?

A.
Yes
, go to "View Members" and click the "
view
" buton next to the Member and there is a section at the bottom of the popup that will appear showing the login history.

---
Question Keywords: login, failed login