Can I give some members some admin privileges?
Still Don't Understand?
Fill out the form below to ask for further clarification about this question:


RELATED QUESTIONS
Q. How do I unlock the admin's account if it was locked from failed login attempts?
A.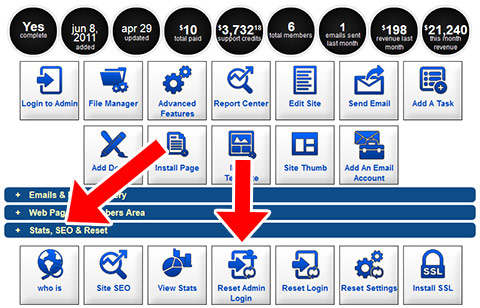 In the
WMT Client Admin
, on the page for your site, under the "
Stats, SEO & Reset
" tab then click "
Reset Admin Login
".
This resets the admin's failed login attempts and does not change the admin password.

---
Q. Would it be best to create a separate account for me to use or should I set up the admin account for my use just like any other member would do?
A.
You should setup a separate account for you to use. The admin account has several cases where it operates differently and is best not to use as a personal account.

---
Q. What does it mean when editing a membership if admin access is set to yes or no?
A.
If admin access is set to yes, then members belonging to that membership are able to access all pages that an admin can access.

---
Q. Where in my admin does the software process the commissions and automatically pay them?
A.
There is a report on the "Referral Program" page at the bottom of the page where you can see who has earned what and what payouts you need to make.
You need to manually do payouts. For PayPal and Payza there is an export to CSV option which allows you to make all of the payouts at once.

---
Q. Will I be able to change the background for my admin panel as well after my site is complete?
---
Q. Does anything changes in the setup or coding of the pages when I change the pages, in ADMIN panel under ADVANCE SETTINGS, from Capture pages to Landing Pages?
---
Q. How do I edit my own pages without using the editor, as the editor changes my page format?
---
Question Keywords: admin account