A.

1) Setup an external billing product for selling the credits.
2) Add a billing option to the product.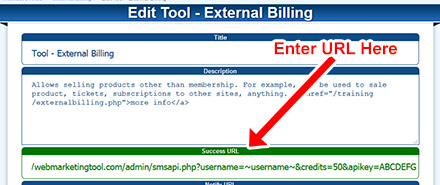 3) Edit the Notify URL for the product putting your URL as shown below:
~wmtsystemurl~/admin/smsapi.php?username=~username~&credits=#&apikey=XXXX###
#
= Replace # with the amount of credits to add when payment is made
XXXX
= Put your API Key from Advanced Features.
yourURL.com
= Put your domain name.
4) You can then get the URL or ~~ code to use when when editing billing for placing the button throughout your site.

A.
The name of the you is:
http://
YOURDOMAIN.COM
/join
Your can edit the template file for it at:
http://
YOURDOMAIN.COM
/uploads/adminpages/join.html

A.
With PayPal, after a person pays, they are required to click a button (that is not noticable to many people) to continue back to your site to finish the join process. This can cause many people to get stuck in the PROCESSING mode. With PayPal, you can have it to automatically redirect to your website after payment so the person is not required to click on a button to proceed. To do this, you must turn this on within your PayPal account.