Added: 08/26/2010 | Updated:
1 Year Ago
THIS FEATURE IS FOR THE PRO SYSTEM
Overview
Memberships allow you to put your members into different groups. You setup several memberships and each member belongs to one of the memberships. memberships can be free, or have different prices. Each membership can be setup with unique or shared content allowing you to have pages, banners, etc only usable by specific memberships. The header/theme/content of every page in the members area can be customized for each membership.
MANAGING Memberships
When logged in as the admin go to "Memberships". On this page you can add new memberships as well as edit/delete existing ones.

Options When Adding/Editing Memberships
Below is an explanation of what some of the less obvious options mean when adding/editing a Membership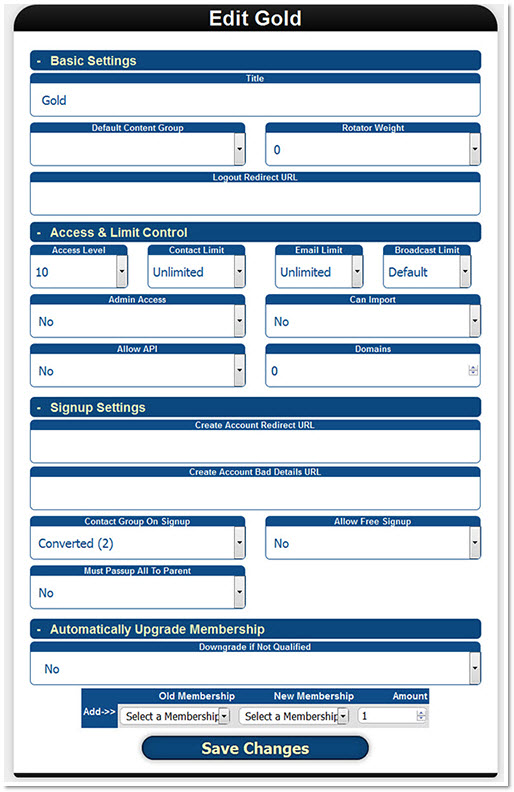 Broadcast Amount: How many days an member must wait after sending a broadcast before they can send another broadcast. NONE means members cannot send any broadcast. DEFAULT means that it uses the setting set under Advanced Features.
Email Amount: The amount of emails an member can send within a month. All emails sent from an member to a contact are counted. Any emails sent to the member (exa: notifications) are not counted.
Rotator Weight: The weight that the member should appear in the rotator. 2 means they appear twice as much as 1. 10 means they appear ten times as much as 1. Click here to read more about the rotator.
Visible: If you have a drop down on the join page allowing members to select which package they wish to join, this determines if the membership will appear in that drop down.
Questions And Answers
How do I assign a resource page to a membership?
---
When I create a new membership where does the option to buy it show up?
---
What does it mean when editing a membership if visible is set to yes or no?
---
What does it mean when editing a membership if admin access is set to yes or no?
---
If I have several membership types and they are free, how I can have it so a member is put into that membership when they join?
---
How do I control what capture pages, banners, and autoresponders that a membership has access to?
---
How do i set up a free membership with out affecting the paid memberships?
---
How many emails can my members send a month/day and how many emails can i send a month/day?
---
How do I manually mark a member as paid (when paying by cash/check, or giving a free month)?
---
Is there a way to make it so if some one joins program A their software will be setup for program A and If some one joins program B their software will be set for program B?
---
When a member purchases a new membership will everything be in the same members area or will it be separate like they have two member areas?
---
We created a new membership. Will it also have a whole new members area with a getting started page?
---
When using Direct Payment, if I add a new membership how can I add an option for visitors to order it?
---
Take the "Memberships" Quiz