A.
Changing the redirect per a membership can be done by creating a separate join page in the
file manager
for each membership (exa:
/uploads/adminpages/join3.html
), and having the join page have a hidden field named "capturepage" and set it's value to the filename of the default page for that membership.
For example if you want to make the following page the default capture page:
http://pagecreator.ripbyrd.com/
page/11
/webmarketing
You would use the following code:
<input type="hidden" name="capturepage" value="page/11">
(remember that webmarketing is the username of the member who the page above belongs to. The username should be removed as shown)
$5 Support Request Option
We can do this for you as a support request and it will not cost more than the $5 minimum.

A.
After you've logged in, click the "Capture Pages" icon. It will then show you a list of all the available capture pages. Click the "Make Primary Page" button beneath the thumbnail of the capture page to make it your primary capture page.

A.
In order for you to change/edit whatever content you have in your current capture page, you have to go to edit pages and click on the thumbnail that shows your current page and it will redirect you to our editor. From there you can change the content of your page.

If you want to redirect your capture page into your website, you can do it under your personal info. Fill out the redirect url, and all your contacts will be redirected to that url after they have filled out the form on your capture pages. If you want to put a specific redirect url to a specific page, go to edit pages, click the thumbnail of the page you wish to edit, and on the upper portion of editing the page, fill out the redirect url and it will redirect that specific page to that specific url.

A.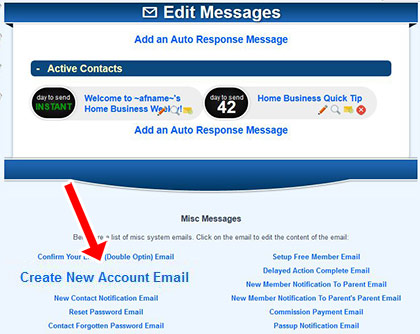 When logged in as the admin go to "
Edit Messages
" then at the bottom click on "
Create New Account Email
".