A.
Changing the redirect per a membership can be done by creating a separate join page in the
file manager
for each membership (exa:
/uploads/adminpages/join3.html
), and having the join page have a hidden field named "capturepage" and set it's value to the filename of the default page for that membership.
For example if you want to make the following page the default capture page:
http://pagecreator.ripbyrd.com/
page/11
/webmarketing
You would use the following code:
<input type="hidden" name="capturepage" value="page/11">
(remember that webmarketing is the username of the member who the page above belongs to. The username should be removed as shown)
$5 Support Request Option
We can do this for you as a support request and it will not cost more than the $5 minimum.

A.
Go to
Advanced Features
.
From there it is about half way down under the section "Member Spotlight".
When turned on you have the option to select the member and enter a description. The member's name, profile image, and description will appear on members area home page (/admin) for all of the members. If it does not appear then the code
~memberspotlight~
needs to be added into the html template file for the page located at
/uploads/adminpages/index.html

A.
When logged in as the admin go to "
Advanced Features
",
Click the "Email Settings" tab, and there is a drop down where you can change the amount.

A.
Yes, the 4 pages will each have their own url.
Members can use all 4 pages at the same time by using the unique URL for the page.

A.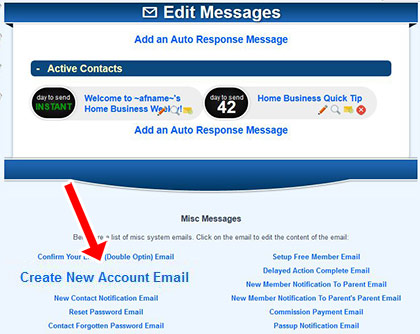 When logged in as the admin go to "
Edit Messages
" then at the bottom click on "
Create New Account Email
".