A.
You can turn the ability for them to edit the message On/Off
1- Go to
Advanced Features
2- Click Email tab then change Allow Edit AR

A.
Click on the
Chainlink
looking icon in the middle of all the icons in the editor.
Put this at the end of every url going to a
capture/landing page: ?user=~username~

A.
Yes, there is a way!
There is a way to do this. The way you do it depends on if members are able to edit the pages.
If Members CANNOT Edit Emails
If your system is setup where members cannot edit emails then any changes you make as the admin are automatically applied to your members.
If Members CAN Edit Emails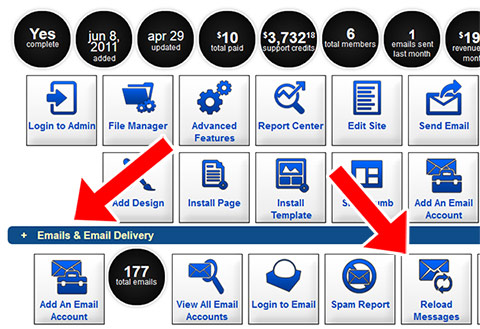 Under the page for your site in the
client admin
, under the "Emails & Email Delivery" tab, under the tool tab there is a link called "Reload Messages" that can be used to do this.
After clicking the icon a popup will appear showing you all of your contact groups.  Click on the contact group you want to push all the changes to members for.
Another Option: LOCK Admin's Messages
Also, under 
advanced features
in the email tab there is a setting called "Lock Admin Messages "  giving you the option to disable member's ability to edit admin emails.  This makes it where members can add their own messages but cannot edit the ones you create.  If you have this turned on then you do not need to do the steps above.

A.
To setup a capture page to use a specific autoresponder series (contact group), you will need to do 3 steps in the following order. If you already have a contact group with autoresponder messages, you can skip to step 3.
STEP 1
Create a new contact group.
STEP 2
Add an autoresponder message (or series of messages) to the contact group.
STEP 3
Assign a capture page to the new contact group.
*Now, whenever a contact fills out the form on that capture page they will be assigned to the new contact group (autoresponder series) that you created.
*NOTE: If you cannot find the page under "Edit Pages" then go to pages and edit the page there, assigning it to the contact group.
IF YOU PREFER FOR US TO DO THIS FOR YOU, PLEASE OPEN A SUPPORT REQUEST ASKING US TO SETUP THE CONTACT GROUP AND BE SURE TO INCLUDE THE TITLE OF THE CONTACT GROUP AND THE URL OF THE CAPTURE PAGE YOU WANT US TO ASSIGN TO THE CONTACT GROUP.