Added: 08/09/2010 | Updated:
5 Years Ago
Contacts Overview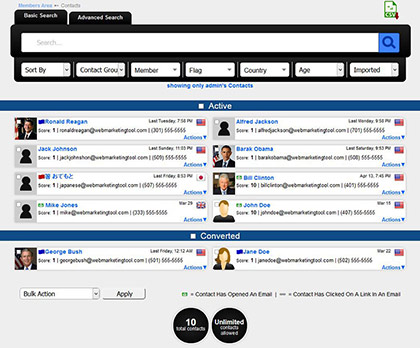 Contact management is a cornerstone of our software.  Every lead generated from a capture page is a contact.  Also, every member has a contact record associated with them.
VIEW CONTACTS
This page, like all pages, can be fully customized.  There is a web app version of this page for offline access of contact details. If a country is not provided by the contact it is automatically detected from their IP. Advanced search is exclusive meaning each search criteria must be matched. Contacts can be flagged for easy identification. Example: You could have a red flag indicate that a contact is interested in a specific product and a yellow flag could indicate a different product, etc.
The
admin
has the ability to view/manage everyone's contacts.
OPENED MESSAGE TRACKING
A
✉
appears next to the name of contacts that have opened an email. Opened message tracking only works when using HTML emails. If the contact views an email offline it does not track that the email was been opened. If images are disabled in the email then it will not track that the email was opened. You can view specific details of which emails were opened and how many times on the contact stats page and also in the regular stats.
LINK CLICK TRACKING
A chain link icon appears next to the name of a contact that has clicked on a link in one of the emails. Link tracking needs to be turned on under advanced features for this feature. You can view specific details of which links were clicked in which emails on the contact emails stats page.
Contact Groups
Members are able to create their own contact groups. A contact can belong to multiple contact groups. Contact groups not only allow you to group contacts but also autoresponder series can be attached to contact groups so that contacts in the group receive follow up messages. Contact groups and all the email messages assigned to them can be copied by clicking the icon on the contact groups page.
Default Contact Groups
Active Contacts - By default when a contact first fills out the form on the capture page they are assigned to the active contacts group. You can change which group a contact is added to when editing a capture page.
Converted Contacts - A group for contacts that have already joined as a member. When a member joins any contacts that have an email matching the email of the new member are automatically transferred to the converted contacts group.
Inactive Contacts - Contacts that are inactive. Members can change contacts to the inactive group. If a contact clicks the opt-out link they automatically become an inactive contact. When using double optin contacts are inactive until they click the link to confirm their email.

Contact Actions
On the contacts page as well as anywhere a contact appears throughout the members area there is a actions link that can be clicked to get useful links for the contact. There are new options that appear when you purchase specific tools (such as live chat, or SMS Marketing).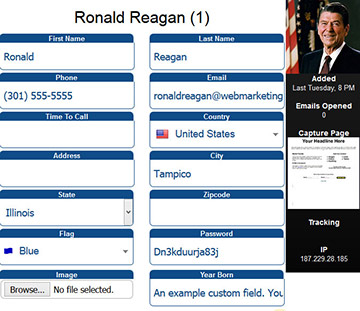 View/Edit
Shows stats such as the date the contact was added, the capture page that the contact opted in at, tracking details, IP address, more. You can edit the contacts details as well as setup an unlimited amount of additional contact fields.
Stats
Shows detailed statistics of each page view and each message sent. Under page views it shows the browser, IP, and operating system of the contact. Under email history, if you click the subject, it shows you a history of every time the contact has opened or clicked on a link in the email.
Score
Every contact has a score from performing actions such as visiting pages, opening emails, watching videos, etc. On the score you can see a list of each action the contact did that added points to their score. The scoring can also be customized to fit your needs.
Notes
You can add notes to contacts to track whatever additional items you need.
Transfer
You can transfer contacts to a new contact group or add contacts to an additional contact group.
Assign
Allows the admin to transfer a contact from one member to another.
Email
When having the Email Marketing tool this allows you to send email messages to the contact.
SMS/Voice
When having the SMS Marketing tool this allows you to send SMS and voice messages to a contacts phone if they live in the USA.
Appts
When having the Calendar tool this allows you to add appointments for the contact. You are sent an SMS reminder 5-10 minutes before your appointment if you add a USA mobile number.
Adding and Importing Contacts
By default contacts are harvested from the capture page. However, in addition to this you can choose to allow members to manually add contacts themselves and/or to import contacts. When importing contacts you can import any CSV file with any contact fields you want (there is no set format you have to use).
Questions And Answers
Why are my contacts going into the inactive folder and is it possible to stop this?
---
What can cause a contact NOT to show that they've opened an email?
---
Why are inactive contacts not listed with other contacts?
---
Can I import my existing contacts or purchased contacts into your software?
---
What is the instant message I see on the View Contact Page?
---
Is there a limit to the number of Contacts "I" (admin) can upload in one file?
---
How do I import Contacts?
---
How do I allow members to import contacts?
---
What's the meaning of the different colored flags?
---
When using a 3rd Party Autoresponder will the contacts appear in View Stats but not in View Contacts?
---
If someone wanted to make their own capture page to tie into the software, what is the autoresponder code for them to use?
---
How many contacts can come in the software per a day?
---
Do you supply contacts to my website to make sales, and how much does it cost?
---
Our capture page does not ask for phone number. However some of the contacts have phone numbers included in their records. How is that possible?
---
What is the HTML form code button in the members area for?
---
How can I import contacts into a member's account into a specific autoresponder series (contact group)?
---
Is there an import function that is easily map-able from a CSV file?
---
Is there a members area page where members can manually add contacts?
---
Can I upload email adresses into the software and send email, and how many emails does it send?
---
Can dynamic code make it so that when a contact enters their information on the capture page, then the next page displays their name (exa: Congratulations John)?
---
Are the contacts stacked in order of when they come in?
---
What is an active/converted contact vs. any other?
---
Is there a way to show more than 50 Contacts per page?
---
Why are the contacts from my main capture page going to one of my members?
---
How can I limit the amount of contacts a member can add a day?
---
How can I reactivate inactive contacts.
---
When a member's account is deleted does the contacts inside his/her account move up to the member's sponsor?
---
Take the "Contacts" Quiz