Added: 08/09/2010 | Updated:
5 Years Ago
Billing Tool Overview
The billing tool allows you to charge for membership to your site.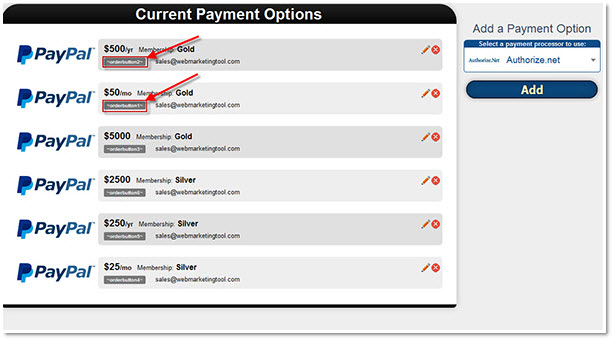 Several payment processors are supported.
Recurring payments and trial payments are supported. The options available depend on the payment processor being used. Each payment processor has it's own steps that need to be taken in order to ensure that payments are tracked properly.
The payment buttons you create will appear at the bottom of the order page.
The order page code can be used to place the button anywhere on the order page. If this code is used, then the button will disappear from the bottom of the order page.
You can add a custom order button when editing a billing record.
Cancelations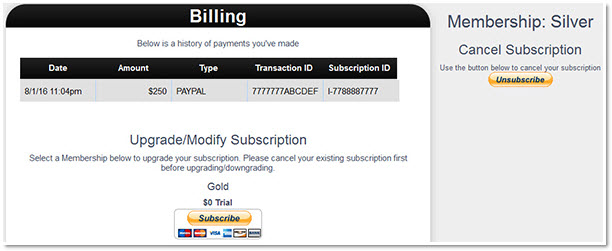 You can cancel your subscription or Upgrade your membership by going to your-domain.com/admin/billing
Related Tools
The billing tool has several other tools related to it that require the billing tool.
External Billing
External billing allows you to sale items such as products, downloads, services, fees, basically anything you want.
Commission Tracking
Support for Other Payment Processors
If there is a payment processor that you want to use that we do not support you have a few options.
Upgrade Request
For $150 we will add any payment processor you request as an upgrade request. It takes 1-3 weeks to add a new payment processor to your system using this route.
Using Your Own Developer
We provide documentation of all of our API's, php objects, database tables and files. We also have other training resources. We have an API specifically for creating a member that is easy to use. If your developer is proficient with php and has already done projects with the payment processor you want to use they will not have a problem setting it up for you.
Alternative Billing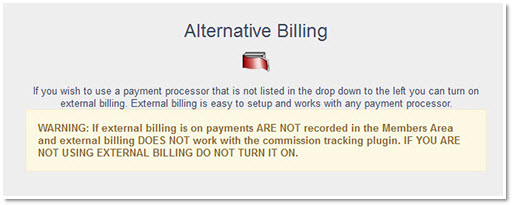 If you wish to use a payment processor that is not supported alternative billing might be a solution. Alternative billing is easy to setup and works with any payment processor. Once turned on you are given a URL to use as your thank you page with your payment processor. This is not the most secure method, and does not work if you have multiple memberships or commission. However, this can be a simple solution if you do not need these things.
WARNING: If alternative billing is on payments ARE NOT recorded in the Members Area. IF YOU ARE NOT USING ALTERNATIVE BILLING DO NOT TURN IT ON.
Accounting
The accounting tool allows you to track revenue, expenses, vendors and money accounts.
Statistics
Manually Marking Members as Paid
NOTE: If you are using direct payment then many of the things described in this web page are different. Please read the details under direct payment page to understand how billing works with direct payment.
Questions And Answers
What does .PROCESSING mean when viewing members?
---
How do I have it redirect directly to the create account page from PayPal without it requiring them to click a button to proceed?
---
Should I get a security certification for my site?
---
When creating account (membership not free) is it suspended immediately after creating or after 24h?
---
How do I set the site so only paying members can use it?
---
If someone cancels their monthly subscription what happens to their account?
---
If a member's subscription payment doesn't go through does it automatically suspend them?
---
I gave someone a free account BUT every month it is suspended. What should I do?
---
Is there away I can make a free membership so people can use the system free but they can't get paid when someone they refer pays for the system ?
---
Why is it that when an existing member upgrades their account it creates a new PROCESSING record for them?
---
What can cause a member to be suspended?
---
How do I fix it when a member upgrades and it creates new PROCESSING record instead of associating the payment with the existing member?
---
Do I need to purchase anything extra in order to be able to charge people for my software?
---
How do I setup a test account without someone having to pay?
---
How do i set up a free membership with out affecting the paid memberships?
---
How do I manually mark a member as paid (when paying by cash/check, or giving a free month)?
---
Does your software do recurring monthly billing automatically?
---
When I create a new membership where does the option to buy it show up?
---
The Payza payment buttons when clicked says the merchant is not able to accept payments now. How do I fix this?
---
Can we charge an admin fee before they fill out the join page?
---
During a trial offer, can they qualify for commission?
---
A member paid through Payza then when she went to set up her account. She had an error saying that she did not use the same email address that she pay with. What should I do?
---
Can we charge an admin fee?
---
Can we offer a free trial?
---
How do I add the dynamic code ~orderbutton1~ to my button image on the order page so that it works for payment?
---
We have a $100 membership option now. We want to add a $25 membership option. Will this new option have it's own payment page?
---
How do I add an order button to a page?
---
Take the "Billing" Quiz