A.
Below are instructions showing how to setup billing buttons for External Billing Products.


Add a product

To add a product put the title of the product in the title box and click Add product button.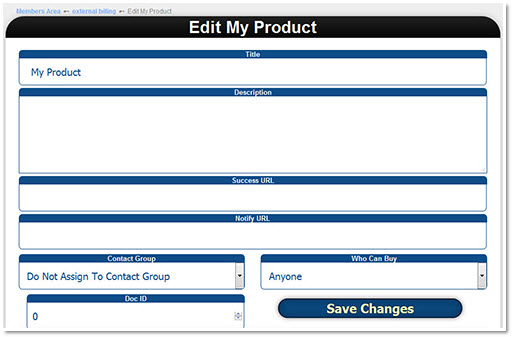 Add product details

Success URL
The url where someone is redirected after making the payment
Notify URL
The url we got from adcoop.php (previous step)
Contact Group
The group of contacts where new contacts will be assigned
Adding commission tiers (OPTIONAL)

This feature requires Commission Tracking Plugin
Using this feature, members can get commission for each product sold based on tiers details.
Setup Payment Options

Select your prefered payment option from drop down then click on setup payment option button. This will take you to set up page where you can enter your payment processor details and get your billing buttons setup.
Promo Code (discounts)
To add a promo code for discount fill promo code form by putting discount amount and promo code in text fields then click add promo code. It will create a field in order page which will allow buyer to get discount based on promo code entered.
Additional Variables:

Adding an additional field in order form page

A.
Yes, you can have each product have it's own commission. You can also have it where different memberships get different commission payouts for the same product.